Mental Health & Emotional Wellbeing
Mental health is a state of well-being in which every individual realises his or her own potential, can cope with the normal stresses of life, can work productively and fruitfully, and is able to make a contribution to her or his community.
St. Mary's Catholic High School has a tiered approach to supporting the Mental Health and Emotional Wellbeing of our pupils. Our whole school mission and ethos, policies, pastoral system and best practice support positive Mental Health and Emotional Wellbeing of all children. Where children show emerging needs, they are supported by targeted provision available in school through the Wellbeing Team (Early Help Provision). Pupils with more complex needs will supported by the help of specialist external agencies.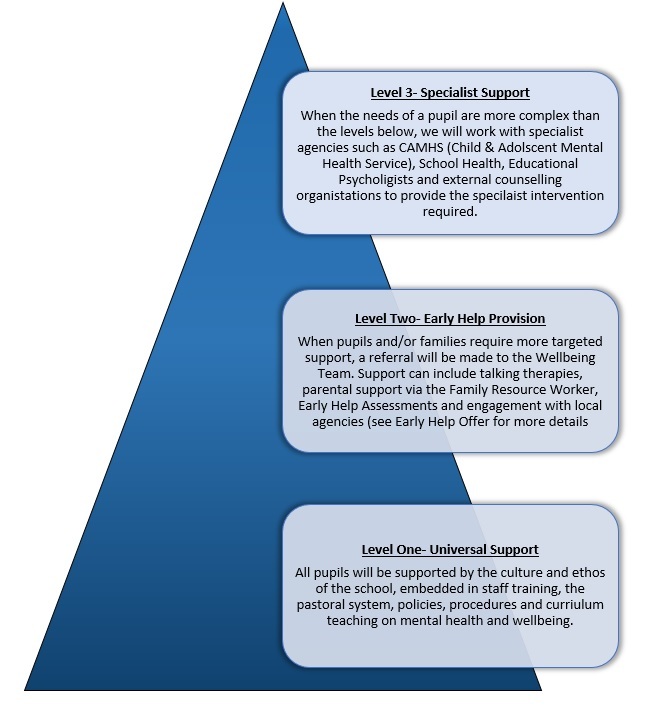 At St Mary's, we aim to promote positive mental health for every member of our staff and student body. We pursue this aim using both universal, whole school approaches and specialised, targeted approaches to support our young people. In addition to promoting positive mental health, we aim to recognise and respond to mental ill health. In 2022, 18.0% of children aged 7 to 16 years and 22.0% of young people aged 17 to 24 years had a probable mental disorder (NHS statistics). St Mary's has the established Wellbeing Team in-house to address the needs of our most vulnerable students and families, in conjunction with the existing pastoral support structure. The Wellbeing Team is comprised of an Early Help Coordinator and Family Resource worker (also the Deputy Designated Safeguarding Lead) School Counsellors, Compass Changing Loves Mental Health Support Team and the NHS School Nursing Team. The Wellbeing Team does not replace Social Care or clinical mental health support.
There is more awareness than ever about mental health and the importance of emotional wellbeing throughout our society. There are many agencies and organisations we can turn to for help when we feel unable to cope, however, we can also look after ourselves more effectively to protect our emotional health. We are keen to instil resilience and independence in all of our students, and self-care plays a significant part in this. How much we sleep, what we eat and drink, how much we exercise all affect how we feel physically and emotionally. The world we live in is arguably more demanding than in the past, so the strategies we use to cope with stress are also crucial in maintaining a healthy, positive and productive lifestyle.
To encourage and support our school community in developing and maintaining positive emotional health, we have complied an A-Z directory of organisations and advice on self-care. We hope that this will help our students, parents, carers and staff in taking a proactive approach to taking good care of their wellbeing. We believe that this is essential for everyone to achieve their God given potential and lead a happy and purposeful life.
Links
ANGER MANAGEMENT
Dealing with anger in teenagers – Family Lives
Anger Management Work with Young People
DRUGS & ALCOHOL
Alcohol & drugs- A parent's guide
Dealing with Young People's Alcohol & drug abuse
EATING DISORDERS
Understanding eating problems 2017
Understanding body dysmorphic disorder 2016
EXAM STRESS
Rise above exam stress- Public Health England
FINANCIAL ISSUES
Financial issues- useful contacts
HEALTHY LIVING
Eating well 12-18 Years-Practical Guide
Healthy eating for teenagers factsheet
Sleep problems self-help guide
Teens Take Charge advice booklet
The impact of physical activity on wellbeing
MENTAL HEALTH
Borderline personality disorder-2018
Depression- Royal College of Psychiatrists
Dialectical behaviour therapy-2017
How to cope when supporting someone else-2017
How to support someone who feels suicidal-2017
Parenting with a mental health problem 2016
Post traumatic stress disorder
Safety Plans & Mental Health Challenge the Storm
Seeking help for a mental health problem
Self harm- Royal College of Psychiatrists
Understanding antidepressants-2016
Understanding mental health problems-2018
Understanding schizoaffective disorder
Understanding Seasonal Affective Disorder
Wellbeing Booklet for AFC students
RELATIONSHIPS & FAMILY LIFE
Domestic abuse and healthy relationships for teens
Gangs, teenagers and your family
Staying together or splitting up
STRATEGIES TO MANAGE STRESS AND ANXIETY
Cognitive Behaviour Therapy (CBT)
Mindfulness Resources and links
Panic and coping self-help guide
Promoting emotional resilience
Talking therapy and counselling-2018